Shopping Cart
Your Cart is Empty
There was an error with PayPal
Click here to try again
Thank you for your business!
You should be receiving an order confirmation from Paypal shortly.
Exit Shopping Cart
Where Nature Meets Beauty
Nuturing Mind, Body and Soul
Nominated as Boston Globe
| | |
| --- | --- |
| Posted on February 14, 2016 at 1:00 PM | |
By Faithlyn Scarlett
As a woman I notice that truly loving our bodies is a difficult thing that many of us struggle with. We glance in the mirror not really at ourselves but at the clothing that we have on or the hair styles we are wearing. We never take the time to really look into our eyes. To smile at ourselves to take the time to show appreciation and gratitude to our bodies for taking care of us all our life. We are quick to point out the flaws. Instead of pointing out the flaws try focusing on that one area of your body that you love. Whether it's your eyes. your lips, your butt, legs etc. As you look into the mirror and the negative thoughts starts to seep in quickly focus on that area that you love, look at my lips they look so kissable, or look at my shoulders I love how strong they are and how they hold my neck up so straight. By gradually doing this everyday self-doubt will fade away.
Notice that everyone is different for a reason. There is no one size fits all, some are tall, some are short, some are skinny and some are volumptuous, but all uniquely diffrent. Did the creator made a mistake? no, we are all made in his image. That statement in itself is extremely powerful. a great mantra to recite daily. "I am made in the image of the creator," Wanting to work on losing weight or gaining weight does not mean that you don't love your body. It means you want to improve yourself, whether it's for health purposes of just to become the best version of yourself.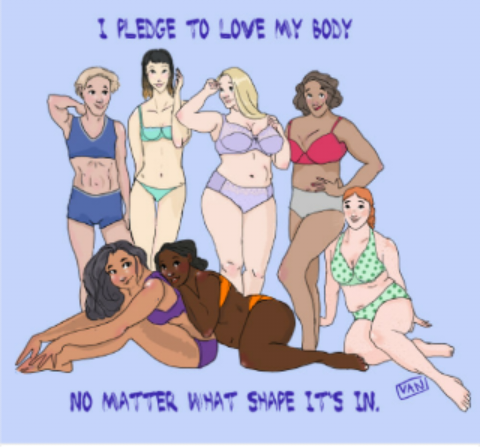 A great way to show love to your body is taking time to treat yourself. Create a scared space where you can spend time alone. This could be your bath time, early morning tea time but just moments where you are truly alone and getting in touch with yourself. In this space you can show gratitude to individual parts of your body. A great place to start is your feet they have carried you everywhere you go. Be thankful for them honor them by doing a foot mask with bentonite clay. Move down the list be thankful for the heart that beats in your chest, to your hands that lifts and do a million things in any given day. In showing gratitude to individual areas of your body, it makes you appreciate yourself more, and the more you appreciate yourself the less you allow people to mistreat you the more confident you become.
I love my body this is me, I wil treat you right because forever we will be.
Categories: Health and beauty
/